RETIRING YOUNG ADULTS
Gustav is heading for retirement! RESERVED
Our big boy celebrates his birthday on 3/24/20 and is looking forward to his next birthday in his very own forever Kingdom!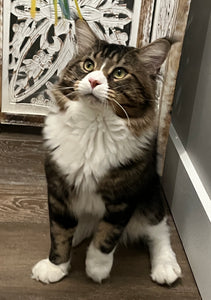 SKYLAR retiring 👑RESERVED BY JB🌻
Skylar is our Blue with White Queen, born 5/3/21 from Alexia and Kobalt. Her last litter is expected 9/10. She can plan for retirement about 8 - 10 weeks following their birthday!🎂
MATILDA retiring Queen 👑 RESERVED
Matilda is our solid Black Queen, born 8/24/20 & has her retirement Queendom awaiting her arrival late in September!
SOLANA - retiring Princess 👑RESERVED
Our sweet and sunny Princess will be joining one of our favorite kitten and retiree Muffin AND Maine Coon families!!!!